Indonesian trials of a China-backed coronavirus vaccine have produced "no significant side effects" so far, boosting the country's hope of producing 250 million doses next year from as early as January.
Professor Kusnandi Rusmil, chief of the research and clinical trials for Sinovac Biotech in Indonesia, said more than a month after the phase-three trial started, it remained on track and "everything goes well".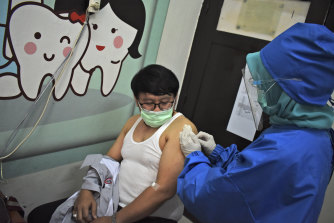 "As at September 29, 1089 volunteers have received their first shots and 650 volunteers have received their second shots. Our tests will be completed in early January 2021. So at the end of January 2021 we can see the effectiveness, the side effects and the immunity [produced]," he said.
The CoronaVac vaccine is being developed in partnership with Indonesian state-owned pharmaceuticals company PT Bio Farma. It is just one example of China's so-called vaccine diplomacy, which has seen the country offer assistance, loans and free doses of the prospective immunisation to countries in south-east Asia, Europe and Latin America.
Dicky Budiman, an Indonesian medical doctor and epidemiologist studying for a PhD at Queensland's Griffith University, warned a January start date was too optimistic. A rollout between March and June was more realistic because of potential complications.
Sinovac reported positive preliminary results in the first two phases of its trial in June and the company has since expanded its phase-three clinical trials to Brazil and Bangladesh.
About 1600 people from Bandung, a city in West Java province that neighbours the Indonesian capital Jakarta, began participating in phase three in early August.
At the time, President Joko Widodo said the threat of COVID-19 would not subside until a vaccine was deployed and that "hopefully in January, we can produce and vaccinate everyone in the country".
The number of coronavirus cases in Indonesia is rising rapidly with more than 4000 infections recorded daily despite testing rates being relatively low. A total of 287,008 cases have been recorded and the death toll of 10,740 is far higher than any other country in south-east Asia.
Honesti Basyir, chief executive of PT Bio Farma, said that while waiting for the clinical testing to be completed, the company would begin preparing for production in November and December.
"Currently the total readiness capacity of Biofarma is 250 million doses for 2021, an increase from 100 million doses [the company could theoretically produce] in 2020. If the clinical testing goes well we will start production in January 2021," he said.
Sinovac has also received emergency approval to administer CoronaVac to some high-risk groups in China, according to Reuters.
But Budiman, the epidemiologist, suggested the national government was placing too much faith in the vaccine ending the pandemic and not doing enough to enforce social distancing, mask wearing and to ramp up testing across the country.
"January is the fastest [the vaccine could be delivered]. I never rely on the fastest, the realistic time will be in March or maybe in mid-2021," he said.
"It's not guaranteed that we will have a safe, effective vaccine."
"I always remind the government that based on the history of pandemics, there is no pandemic ended by a vaccine so far. It should be part of the strategy to end the pandemic but not the only one."
The first group earmarked for priority access to the vaccine in Indonesia is healthcare workers and those who are close contacts of COVID-19 cases.
The rollout of the vaccine, if or when the vaccine is ready, will be a huge logistical exercise as the country is home to about 270 million people across more than 17,000 islands, although a bit over half the population lives on the main island of Java.
A separate, locally developed vaccine dubbed the merah putih (red and white, the colour of the national flag) is planned for production in mid-2021.