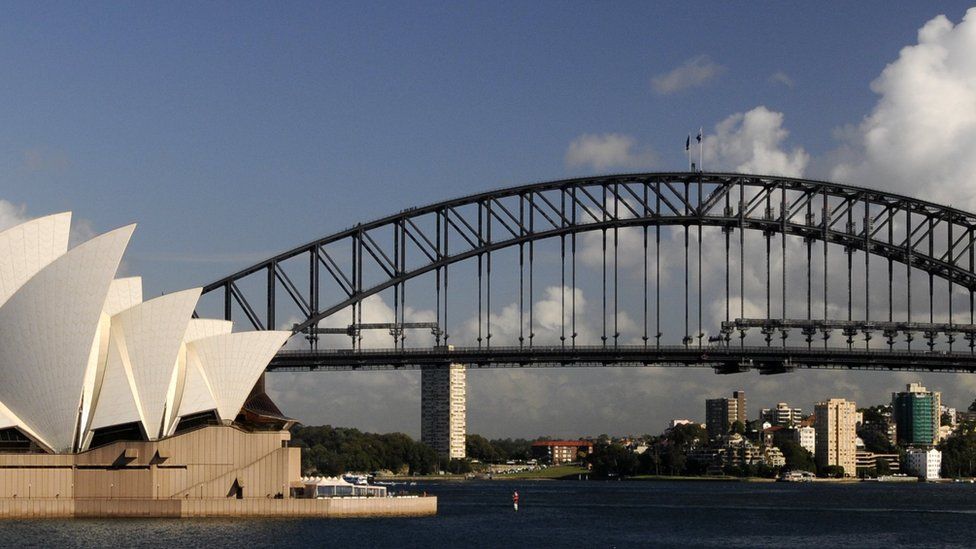 The UK has signed a free trade deal with Australia which it says will benefit consumers and businesses.
It is described as the first post-Brexit deal negotiated from scratch and not "rolled over" from trade terms that the UK enjoyed while in the EU.
The government estimated it would unlock £10.4bn of additional trade while ending tariffs on all UK exports.
However, some UK farmers have expressed concern that they could be undercut by cheap imports.
The government said the deal was also a gateway into the fast-growing Indo-Pacific region and would boost the UK's bid to join the Trans-Pacific Partnership, one of the largest free trade areas in the world.
Australia has also praised the deal, its second-largest trade contract with another country.
"It's a truly historic agreement – it's a true free-trade agreement. Everyone wins," said Australian Trade Minister Dan Tehan.
The agreement, which was signed in a virtual ceremony by International Trade Secretary Anne-Marie Trevelyan, is due to come into force next year.
Ms Trevelyan described it as "a landmark moment in the historic and vital relationship between our two Commonwealth nations".
It demonstrated what the UK could achieve as "an agile, independent sovereign trading nation", she added.
In a BBC interview, she rejected suggestions the deal would harm UK farmers.
She said the deal had "very clear safeguards" and "clear tariff quotas in the first 10 years", as well as "an overarching safeguard mechanism".
"The reality is that Australia sends about 70% of its beef and sheep meat to the Asia-Pacific markets," she said.
"They're closer for them and they get great prices. So I'm not expecting there to be any dramatic surge into UK markets and I know that our citizens will continue to buy what they want, but I'm very pleased to do things that will open up consumer choice."
For Australia, the deal eliminates tariffs from 99% of its exports and makes it easier for Australians to live and work in the UK.
It will also help boost sales of Australia's wine, beef and sugar. These goods have been boycotted by China – Australia's main export market – due to recent political tensions.
A free trade deal aims to encourage trade – usually in goods but occasionally in services – by making it cheaper. This is often achieved by reducing or eliminating tariffs – taxes or charges by governments for trading goods across borders.
Trade agreements also aim to remove quotas – which are limits on the amount of goods which can be traded.
Trade can also be made simpler if countries have the same rules, such as the colour of wires in plugs. The closer the rules are, the less likely that goods need to be checked.
Ms Trevelyan says this agreement is a blueprint for all the other countries that want to do trade deals with the UK, so they can – in her words – "see just how expansive we want to be".
It has been welcomed by British companies that want to do more business in Australia, especially in services. Trade between the two countries will increase.
But trade deals always work both ways.
The UK has given Australia pretty much everything it wanted in terms of access to the UK agricultural market. Other larger economies will take note of that and want similar access in the future.
The government insists that the concerns of British farmers have been taken into account, with transitional arrangements lasting for up to 15 years.
The government also points to a series of environmental provisions in the deal, which makes reference to the Paris agreement on climate change. An explicit reference to the goal of limiting global temperature rise to 1.5C, though, has been dropped. Climate NGOs will not be impressed by that.
It highlights the fact that trade deals involve compromise, but this agreement also needs to be seen in the perspective of the wider trade challenges the UK faces.
The Department for International Trade's internal assessment is that the deal with Australia could increase the size of the UK economy by £2.3bn a year from 2035. But that's only 0.08% of GDP.
In comparison, the independent Office for Budget Responsibility estimates that the long term loss from leaving the European Union could be about 4% of GDP.
Shadow international trade secretary Nick Thomas-Symonds said Labour supported such a deal, but would scrutinise it very carefully to make sure it delivered the promised benefits.
He added that the opposition would "hold the government to promises made to farming communities, its pledges on environmental protections and on food and drink standards".
Among the main points of the deal listed by the UK government are:
In 2019-20, trade in goods and services between Australia and the UK was valued at £20.1bn, and both sides are hoping to expand this amount considerably.
Currently, trade in meat between the two countries is very small.
Approximately only 0.15% of all Australian beef exports go to the UK. Last year, 14% of sheep meat imports to the UK came from Australia.