Western countries are destroying surplus doses of vaccine while the poorest nations go without. This must change.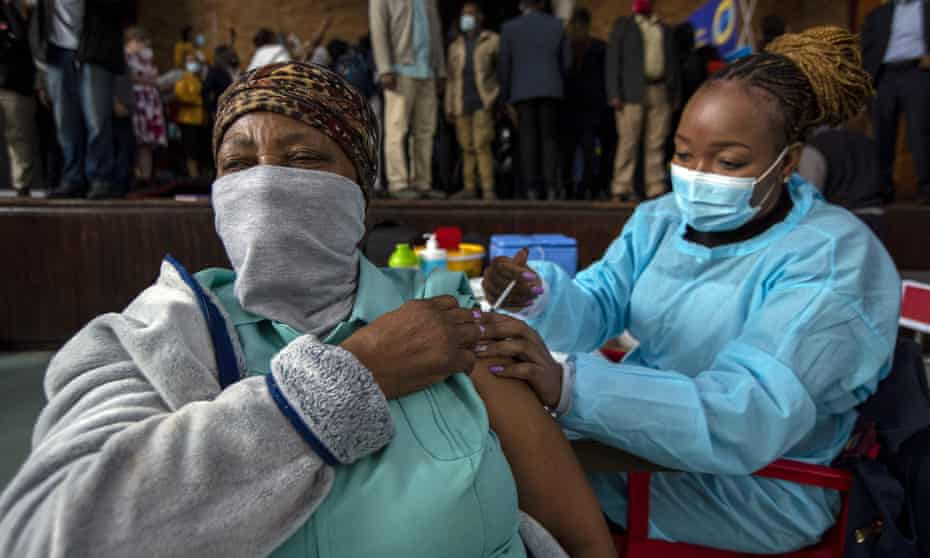 'While South Africa has achieved 27% vaccination rates, its rural areas are often in single figures.' A woman receives a Covid jab in Katlehong, South Africa, October 2021.

Photograph: Themba Hadebe/AP
Despite the repeated warnings of health leaders, our failure to put vaccines into the arms of people in the developing world is now coming back to haunt us. We were forewarned – and yet here we are.
In the absence of mass vaccination, Covid is not only spreading uninhibited among unprotected people but is mutating, with new variants emerging out of the poorest countries and now threatening to unleash themselves on even fully vaccinated people in the richest countries of the world.
On Thursday, the UK's Department of Health, which has placed a travel ban on southern Africa, warned that the B.1.1.529 "Omicron" variant was the most "complex" and "worrying" seen so far. And yet with 9.1bn vaccines already manufactured and 12bn expected by the year's end – enough to vaccinate the whole world – this was the "arms race" that we could have won. No country should be facing yet another winter with the uncertainty of a new wave of Covid hanging over us.