Climate justice activists at Cop27 demand community-based renewable projects that work for the people, not corporations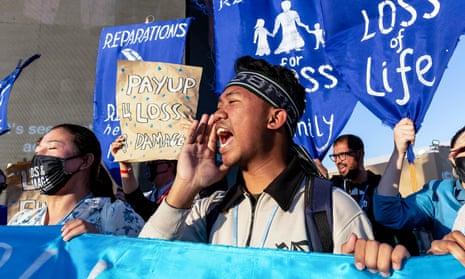 The west's dash for African gas has become a rallying point at Cop27, with climate justice activists calling out the hypocrisy of rich polluting nations who are scrambling to keep energy prices down by pushing for more fossil fuel projects in Africa.
This short-term fix to the energy price crisis created by Russia's war on Ukraine will lock some of the poorest, most climate-affected countries in the world in polluting fossil fuel projects with few economic or energy benefits for the communities whose land, water and heritage will be sacrificed.
It has been called out as "energy colonialism" – a political-corporate alliance on display at Cop27. There, more than 630 industry lobbyists are scattered around the conference centre in Sharm el-Sheikh as deals on climate finance, forests and food systems are being made.
It's a huge, often insurmountable challenge for grassroots leaders from frontline communities to have their voices heard – let alone offer alternatives to the mostly market-based solutions being pushed.
But the climate justice movement's message is clear: community-based renewable projects that work for the people, not corporations, are a necessity, according to Dipti Bhatnagar, from Friends of the Earth International in Mozambique. "It's not just about the energy source, it's about the whole energy system – who decides, who benefits and who profits."
Across Africa, an estimated 600 million people still lack access to electricity – in large part because most fossil fuel investment is directed toward infrastructure for export rather than downstream power delivery to Africans. But there's no guarantee that the transition to solar, wind, hydro and geothermal will be just, warns the Business and Human Rights Resource Centre, which tracks abuses and conflicts linked to the green energy sector.