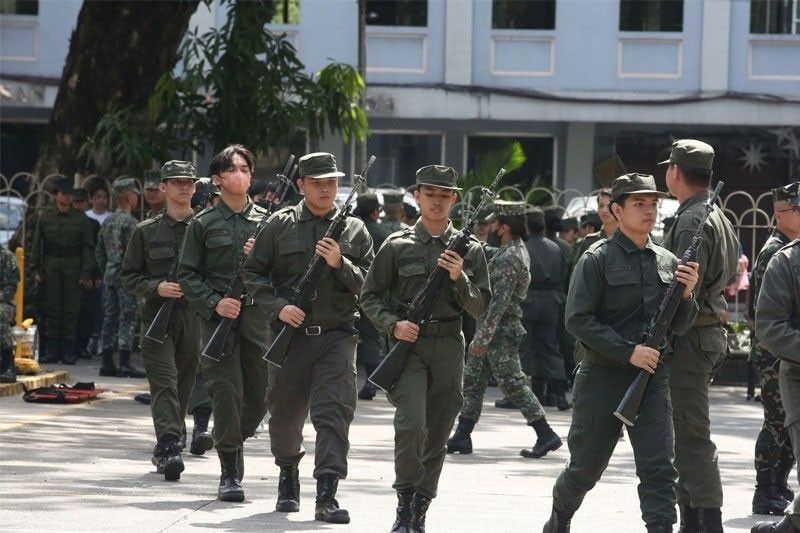 MANILA, Philippines — More than 70 percent of the population, or seven out of 10 people, support the move to reinstate the mandatory Reserve Officers' Training Corps (ROTC) program, a nationwide online survey conducted by research and analytics firm Capstone-Intel Corp. found.
The survey conducted from Sept. 25-30 aimed to gather insights on the controversial issue and assess the knowledge and perceptions of Filipino adults on the topic
"This favorable perception towards ROTC is evident across various age groups, with individuals aged 25-34 exhibiting the highest level of support at 77 percent. This is closely followed by the age bracket of 35 to 44, with a support rate of 73 percent, and individuals aged 55 to 64, who demonstrate a support rate of 71 percent," Capstone-Intel said.
The national survey involved a total of 1,210 respondents from 17 different regions. Of the respondents, 51 percent were male and 49 percent were female, all aged between 18 and 65 years old or older.
The survey was scientifically constructed using a data panel survey process used for 30 years of market research, Kaye Domingo, Capstone-Intel director for publications and research explained.
One aspect of the survey aimed to identify the factors motivating respondents to support the reinstatement of ROTC. The three primary reasons cited are as follows: the desire for discipline (88 percent), opportunity to receive leadership training (73 percent), and the chance to develop teamwork skills (71 percent).
While over 71 percent supports the revival of ROTC, there are still reasons why they can change their minds. The top reason is that there is no assurance of safeguarding students from abuses (58 percent), followed by more expenses (37 percent), mental health effects (32 percent), and if it is mandatory (28 percent).
"The high level of support for the ROTC program stems from the public's strong belief in its ability to impart valuable knowledge to students. It is important to address the concerns of parents and guardians and assure them that their children will be safeguarded from any potential issues," Capstone-Intel said.
"Policymakers must carefully study the implementation of the ROTC program to ensure that it aligns with the goals and values of the universities involved. Open and transparent consultations with students, parents, and guardians are essential to address any concerns and ensure a clear and orderly return of ROTC," it added.
At present, ROTC is an integral component of the National Service Training Program, as mandated by Republic Act 9163 or the NSTP Act of 2001. Alongside ROTC, the NSTP also encompasses the Civic Welfare Training Service and the Literary Training Service.