The Australian government says the fate of two dozen Indian sailors stranded for five months at a Chinese port with 170,000 tonnes of Australian coal is a matter for the companies involved.
The future of the 23 crew members stuck on board the Jag Anand ship is now hanging on negotiations between Chinese authorities, the Indian government and Australian miners after a five month deadlock.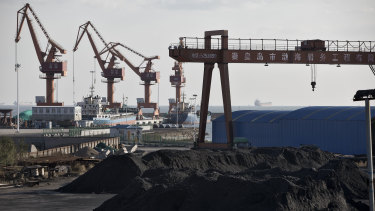 Family members of the sailors say medications and supplies are running out after the coking coal from Gladstone Port in Queensland was rejected by Chinese authorities at a port in northern China om June 13. The 290-metre long ship has not moved since.
The company that owns the vessel, India's Great Eastern Shipping, said it had tried to redirect the ship to Japan but this had been rejected by the ship's coal suppliers, while China has refused to allow the crew ashore due to coronavirus restrictions.
Australian coal, wine, timber and seafood exports have all faced import restrictions from Chinese authorities after months of diplomatic tensions over the coronavirus and the Chinese Communist Party's actions in Hong Kong and the South China Sea. Chinese steel mills and power plants have had annual import quotas enforced as the Chinese government attempts to bolster local miners.
RELATED ARTICLE
Australian Resources Minister Keith Pitt said he was aware of longer port processing times for Australian coal, particularly at this time of year.
"The decisions which lead to crews remaining on vessels for extended periods of time are primarily commercial and are a matter for the companies involved," he said.
"We continue to engage with industry about the impact that these longer processing times are having on resources exporters."
The Australian mining companies responsible for the coal have not been identified.
In a letter posted to Twitter on Friday, the wife of one of the crew members said the vessel had been at anchor at the Chinese port of Jingtang in northern China since June 13 "with no news of near berthing schedule".
"Deteriorating health of crew members is also a major concern with some being declared unfit by [the] company doctor," she said.
Great Eastern Shipping has been contacted for comment. The company told The Hindu on Sunday it had appealed to the Indian consulate and international bodies to get the crew signed off the vessel on on humanitarian grounds.
A spokesperson said that some of the crew have medical conditions such as diabetes, hypertension and heart disease.
"The situation on board is truly grim and extremely concerning. The crew on board are suffering from severe fatigue and stress" the spokesperson said.