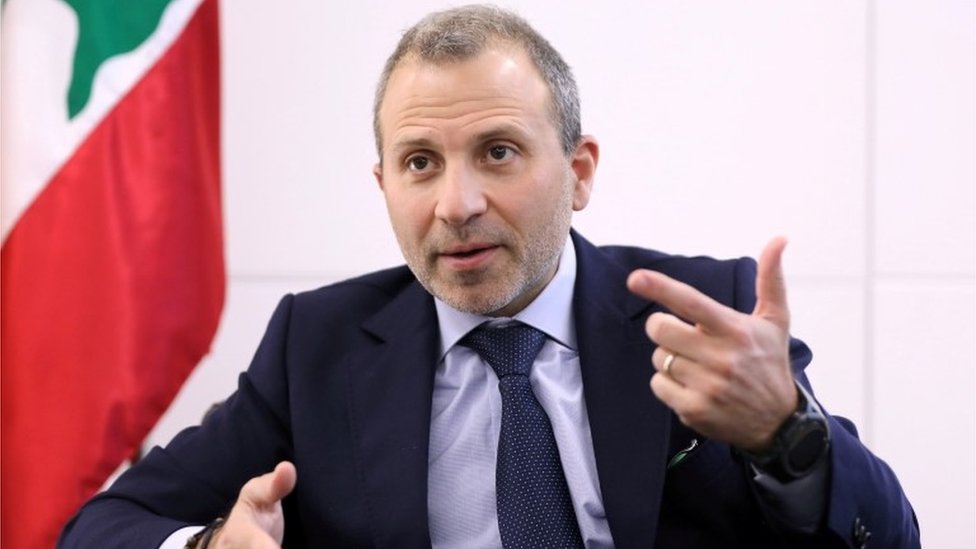 The Trump administration has imposed sanctions on a top Lebanese politician whom it has accused of playing a major role in corruption in the country.
The measure targets Gebran Bassil, head of the Free Patriotic Movement, a Christian party allied to the powerful Shia movement Hezbollah.
It comes at a time when Lebanon is in deep political and economic crisis.
The country has been in turmoil for months, facing mass protests, the Covid pandemic and a devastating blast.
Demonstrators have taken to the streets across the country demanding a complete overhaul of its political system, which is widely seen as perpetuating corruption and ineffective governance.
Lebanon is also suffering financial collapse, worsened by the effects of the pandemic, as well as deep anger against the ruling elites over the explosion at Beirut port in August, which killed almost 200 people and injured 6,000 others.
Announcing the sanctions, US Treasury Secretary Steve Mnuchin said: "The systemic corruption in Lebanon's political system exemplified by Bassil has helped to erode the foundation of an effective government that serves the Lebanese people.
"This designation further demonstrates that the United States supports the Lebanese people in their continued calls for reform and accountability."
Moments later, Mr Bassil reacted defiantly on Twitter.
"Sanctions have not frightened me and promises have not tempted me," he posted in Arabic.
"I will not turn against any Lebanese… I will not save myself for Lebanon to perish."
Pro-Western Sunni politician Saad Hariri is trying to form a new government after his predecessor's efforts to do so failed.
Sanctions against Mr Bassil could make it more difficult for him in negotiations over the formation of the next government, analysts say.
Hezbollah has been a close ally of the Free Patriotic Movement (FPM) – founded by President Michel Aoun, Mr Bassil's father-in-law – since 2006, and has wielded significant power and influence as part of successive Lebanese ruling coalitions.
The US and many other countries including several Arab states have designated the Iranian-backed group a terrorist organisation due to its record of attacks abroad.
One is a member of the Christian Marada party, the other a senior official in the Shia Muslim Amal movement. Both are political allies of Hezbollah.