President expected to announce pick to replace Ruth Bader Ginsburg on Saturday, setting stage for rightward shift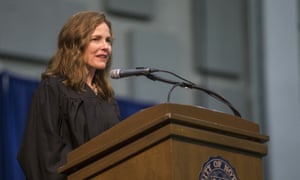 Amy Coney Barrett at the University of Notre Dame's law school commencement ceremony in 2018. Photograph: Robert Franklin/AP
Donald Trump will on Saturday name Amy Coney Barrett as his pick to replace Ruth Bader Ginsburg on the supreme court, according to multiple reports.
Ginsburg died last Friday of pancreatic cancer at the age of 87. The president has trailed a Saturday afternoon announcement of his third pick for the court, a choice that with Republican support in the Senate would tilt the nine-member panel firmly to the right, 6-3.
The New York Times, the Associated Press and CBS were among outlets on Friday citing anonymous sources in the administration and the Republican party as saying the choice had been made, although CNN added a caveat.