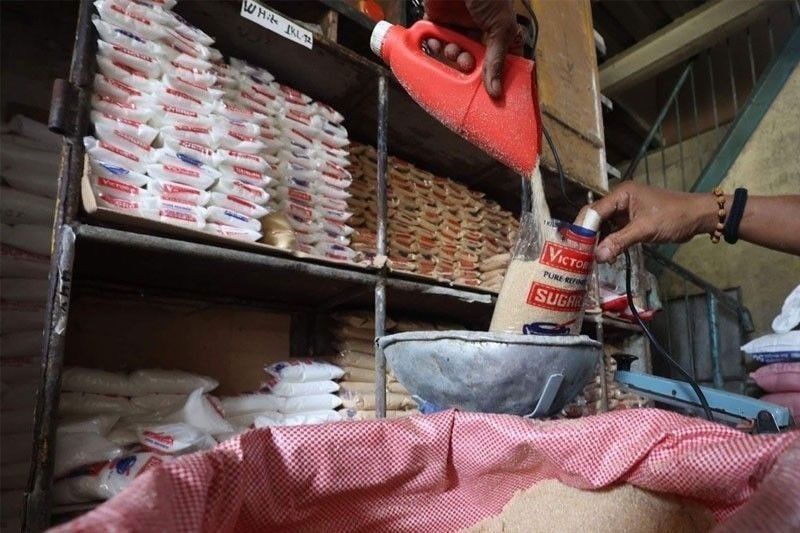 MANILA— Selling sugar at P85 a kilo is nothing less than large-scale agricultural smuggling and economic sabotage and is outrageous, Sen. Risa Hontiveros said yesterday.
At a press conference at the Senate, Hontiveros lamented that selling sugar at P85 a kilo could mean a P32 per kilo profit, which she described as "nothing short of outrageous. It's like winning the lottery 50 times on the super lotto without even putting a bet."
"You can actually buy refined sugar wholesale for P25 per kilo in Thailand. If you are a sensible importer, you know that you would already get a decent profit if you sell sugar at P61, including other expenses like warehousing, duties and handling with a good profit of P8 per kilo per industry standard at wholesale," the senator said.
Aside from the P8 per kilo profit, Hontiveros pointed out that "traders are selling sugar at P85 a kilo or P24 plus P8 or a total of P32 per kilo profit. Multiplied by 440,000 metric tons, the profit is beyond normal with P10.5 billion. That's huge for only three traders. If normal profits are included, the total would be P14 billion!"
The senator said she filed a Senate resolution on the entry of imported sugar ahead of a valid sugar order. She said she was waiting for the chairman of the Senate Blue Ribbon committee to call for a public hearing.
"But the time-sensitive and urgent developments of the matter compel me to share this with you all, and with the Filipino public," she said.
"What we may be witnessing is the unfolding of a crime. Nothing less than large-scale agricultural smuggling. Nothing less than economic sabotage. We are talking about billions of pesos here," Hontiveros said.
She said last month the Department of Agriculture, through Senior Undersecretary Domingo Panganiban, ordered the importation of 440,000 metric tons of sugar to be coursed through only three traders, whom he claimed were "most capable."
"While I have my doubts if they are the 'most capable,' Usec. Panganiban admitted that his decision was 'hasty,' the weeks that followed only demonstrated the consequences of the Usec's haste," she said.
"Weeks ago, at least one industrial user of sugar went to Usec. Panganiban and asked if it might be able to import sugar from Thailand just for its own use," said Hontiveros.
"The response of Mr. Panganiban was that there will be only three importers and the company will have to negotiate with the chosen three, led by All Asian Counter Trade," she added.
Hontiveros said "sugar is critical to these industrial users as the Coca-Cola plant could closed and the work of our countrymen will be affected."
She said the company did as instructed and went to All Asian. "All Asian, according to my sources, initially quoted a wholesale price of P85 per kilo. Why is this price so appalling?"
She added the three traders later agreed to sell the sugar at below P80.
"For example, if they are kind enough to sell P77 wholesale per kilo to industrialists and P77 to retailers so that the price in the market and groceries can be lowered to P85. Because the wholesale price of sugar in Thailand is only P25, and let's say with the costs of duties, handling and warehousing, the super profits (on top of normal profits) of these three are still at P7 billion. With the normal profits and more than P10 billion in income," Hontiveros noted.
"With that kind of profit that is shared by the three, it's hard to imagine how much kickback there is. Your sugar has a sweetener," she added.
During the press conference, Hontiveros presented a photo of the three officials of sugar importers with President Marcos at the Palace.
"When was this photo taken? This is making the rounds now online and I confirmed that these are the importers. I want to know, is it normal to host sugar importers in Malacañang? Is the President being manipulated by his underlings who handpicked the importers?" she asked.
Hontiveros noted that the Bureau of Customs has confirmed the first 20 containers for All Asian have already arrived before a sugar order could even be signed.
'No show'
Meanwhile, the House panel on agriculture and food yesterday hit what seems to be a "cartel" in the "absences" of resources persons at yesterday's inquiry on onion smuggling and price manipulation.
In her manifestation, Marikina Rep. Stella Luz Quimbo moved for the panel to issue a show cause order against seven individuals, including the trader Lilia "Leah" Cruz, who has been dubbed as the "Sibuyas (onion) queen," for not showing up at the hearing, citing medical reasons.
"This is really very, very frustrating.  Even on absences, there is a cartel? I move that we issue a show cause order against (these people), explaining to the commission why we should not be citing them in contempt for failure to give us sufficient basis for their absence," she said in a mix of Filipino and English.
Aside from Cruz, also ordered to explain are Mary Ann Lim and Grace Ann Ong of Super 5 Cold Storage; Eric Pabilona and Sherman Chat of Tian Long Trading; Marlene Lamata of Rivson Storage and Vilma Camato of Argo Cold Storage.
Last March 7, the seven individuals were issued subpoenas by the panel to attend yesterday's hearing.
Cavite Rep. Elpidio Barzaga Jr. has asked House physician Jose Luis Bautista to check on the condition of Cruz, who has been confined at the Metropolitan Hospital since March 19 due to "bleeding."
"I move that the physician of congress, Dr. Bautista, be required or requested to visit today (March 21) personally and see the condition of Leah Cruz as to whether or not her condition really prevents her from attending the session," he noted.
This is after Bautista told the panel that based on the medical certificate presented by Cruz, 47, her condition "does not preclude her from attending this session by Zoom."
But Barzaga manifested that the panel would be "dispensing insofar as the show cause order" for Kim Kok Lim, one of the owners of Super 5, who is undergoing immuno-suppresant therapy due to the kidney transplant that he underwent in 2014.
Based on Kim Kok Lim's medical certificate, Bautista pointed out that the former has been "in and out of the hospital" and is "not in good condition."
Lamata had submitted a medical certificate that she was having "upper respiratory tract infection" and was advised to rest for one week.
But according to IloIlo Rep. Janette Garin, such is not a case of pneumonia and it "does not warrant isolation, being absent for work and her condition allows her to appear before this body."
Committee chair and Quezon Rep. Wilfrido Mark Enverga reported that the panel had received letters, indicating that Mary Ann Lim was five months pregnant and was advised to do bedrest, while Grace Ong has COVID-19 symptoms.
Chat and Pabelona were also absent but they did not submit medical certificates.
But Pabelona's lawyer told the panel that he flew to Hong Kong on March 4, or before the subpoena was issued, for eye surgery.
"So many of them are sick, I don't want to prejudge being the chair, we will accord them the chance to explain the pandemic happening at this stage," Enverga added in a mix of Filipino and English. – Sheila Crisostomo